Detailed Description:
Take back the stage and experience untethered keytar performance with the next generation Alesis Vortex Wireless 2. Featuring improved ergonomics for better playability, a more durable housing, and an updated control layout, the updated Vortex Wireless 2 offers comprehensive MIDI controller functionality in a stylish and stage-ready keytar design with a stunning gloss-black finish. This dynamic MIDI keytar controller connects wirelessly to your computer and easily integrates with popular virtual instruments, plugins, and DAWs. For maximum stage and studio mobility, the PC- and Mac-compatible USB dongle uses a single USB port to establish a reliable, wireless connection. Create dynamic, expressive performances that the audience will both see and hear.
Command the stage with 37 velocity-sensitive keys with aftertouch, 8 RGB back-lit velocity-sensitive drum pads, and a row of 8 back-lit faders all laid out in an accessible, hands-on design. A series of neck controls provides additional performance options: you can tweak sounds using the MIDI-assignable touch strip and MIDI-assignable accelerometer, expand melodic ideas with the octave range buttons, and activate sustain all while your right hand remains free to play. Vortex Wireless offers multiple connectivity options and comes equipped with USB-MIDI and traditional MIDI Out jacks.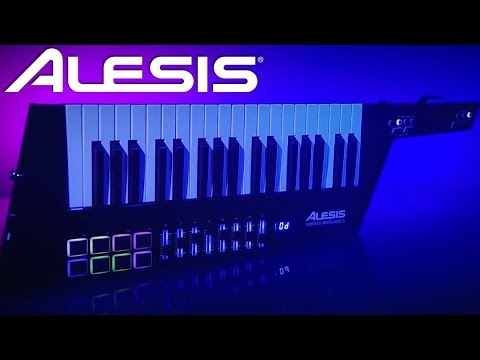 Introducing the Alesis Vortex Wireless 2 – YouTube
Video will open in a new window
Using the eBay App? Paste link into a browser window:
[isdntekvideo]
.ytvideo * { box-sizing:border-box; } .ytvideo { margin:.5em auto 40px auto; max-width:480px; font-family:arial; text-align:center; position:relative; min-height:120px; background-color:#555; } .ytvideo p { position:absolute; margin:0; color:white; background-color:rgba(0,0,0,.5); } .ytvideo .yt_hd { font-size:16px; width:100%; height:28px; line-height:28px; text-align:left; top:0; left:0; padding-left:10px; overflow:hidden; } .ytvideo .yt_ft { font-size:12px; width:100%; bottom:0; left:0; } .ytvideo img { display:block; max-width:100%; border:0; } .ytvideo a:after { content:"A025BA"; position:absolute; width:60px; height:50px; left:0; top:0; right:0; bottom:0; margin:auto; border:0; border-radius:10px; color:white; background:rgba(0,0,0,.6); font-size:24px; line-height:50px; cursor:pointer; } .ytvideo a:hover:after { background:#CC181E; } .ytvideo .yt_inp { position:absolute; top:100%; left:0; width:100%; text-align:center; padding:.5em .2em; xfont-size:18px; border:0; color:white; background: rgba(0,0,0,.7); } @media(max-device-width:960px){ .ytvideo { margin-bottom:60px; } .ytvideo .yt_inp { padding:1em .2em; } }