Audio-Technica ATW-1101/G System 10 Digital Wireless Guitar Set
AT-GCW – Instrument & Guitar Cable
ATW-T1001 System 10 Digital UniPak Transmitter
ATW-R1100 System 10 Digital Wireless Receiver
Power Supply
Limited 2-Year Warranty
---
Detailed Description:
The ATW-1101/G System 10 from Audio-Technica is a digital wireless solution for your electric guitar or bass rig that includes the ATW-R1100 digital receiver, the ATW-T1001 UniPak pocket transmitter and the AT-GcW guitar cable. The ATW-1101/G uses 24-bit, 48 kHz digital audio and operates free from TV interference in the 2.4 GHz frequency range. Built for expandability, you can use up to eight systems simultaneously.
The ATW-1101/G is designed for quick and easy setup. Specifically for electric guitarists and bassists, it comes with the 36″ AT-GcW guitar cable for connecting your guitar or bass to the ATW-T1001 UniPak pocket transmitter. Just plug the cable's 1/4″ phone plug connector into your guitar, then plug the locking 4-pin connector on the other side into the pocket transmitter. Finally, just use a guitar cable to connect the unbalanced output on the ATW-R1100 digital receiver to your guitar amplifier's input and you are ready to go.
The ATW-1101/G wireless system is engineered to quickly find the best signal possible, utilizing an automatic frequency selection function that chooses open bands for you when you "pair" your transmitter with the receiver. Also designed to combat interference, the ATW-1101/G uses three different diversity techniques.
Using frequency diversity, the system sends the wireless signal on two separate channels simultaneously and chooses the one with the clearest signal. It also transmits the signal across multiple intervals in time in order to fight multipath interference. This is known as time diversity. Furthermore, the system also makes use of space diversity, choosing between the receiver's dual antennas depending on which is picking up the best signal integrity.
Unbalanced 1/4″ output on receiver for connecting to guitar amp
Balanced XLR output on receiver allows for connection to microphone level inputs on mixers
Level controls on transmitter and receiver
Pair indicator illuminates on receiver when synced with transmitter
AF Peak indicator on receiver allows you to monitor the input stage on the transmitter for clipping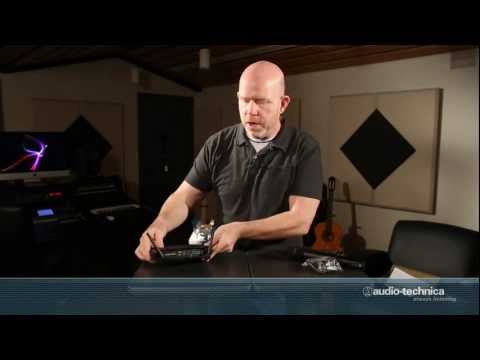 Audio-Technica System 10 Unboxing and Product Overview – YouTube
Video will open in a new window
Using the eBay App? Paste link into a browser window:
[isdntekvideo]
Key Features & Specifications:
AT-GcW Guitar Cable
ATW-T1001 UniPak Transmitter
ATW-R1100 Digital Receiver
Use Up To 8 Systems Simultaneously
Digital 24-bit/48 kHz Wireless
TV Interference Free 2.4 GHz Range
Automatic Frequency Selection
Frequency, Time, & Space Diversity
Balanced XLR and Unbalanced 1/4″ Outputs
Pair and AF Peak Indicators