Korg Monologue Monophonic Analog Synthesizer (Black)
6 x AA Batteries
Limited 1-Year Warranty
---
About the Korg Monologue Monophonic Analog Synthesizer with Presets -Black (MONOLOGUEBK)
The Black Monologue from Korg
is a monophonic all-analog synthesizer with a fully programmable
single-voice architecture and 100 fully editable presets, well suited
for musicians and analog enthusiasts. Building upon the success of the
Minilogue Polyphonic Synthesizer, Korg reworked the knob-per-function
layout, voicing, and sound-sculpting abilities to create a
distinctive-sounding instrument for all types of musicians and sound
designers.
The synth offers two VCOs and a redesigned filter with
a powerful low-end punch. A drive circuit has been added to apply
aggressive overtones and distortion to the sound for huge bass sounds
and sharp lead tones.
The LFO rate can be adjusted into an
unprecedentedly ultra-high-speed range to generate crazy
space-shattering sounds, or it can be switched to one-shot mode to act
as an additional envelope.
The OLED display offers parameter information
and features a real-time oscilloscope, providing eye-catching visual
feedback on the sound being played. A 16-step sequencer not only records
notes, but motion sequences of knob movements as well.
Analog synthesizer with a redesigned synthesis structure optimized for monophonic inspiring sounds and sequences
Fully programmable, with 100 program memories (80 presets included)
16-step sequencer with extensive motion-sequence technology to make your sound move
Microtuning lets you freely create scales and alternate tonalities
Oscilloscope function helps visualize the waveform in real time
Battery-powered for portability
Rugged and stylish with aluminum top panel, chassis-mounted pots, rubber-coated knobs, and real-wood back panel
MIDI,
USB MIDI, and Audio Sync for all types of in-studio and live
connectivity, including direct sync with minilogue, SQ1, volca,
electribe, and more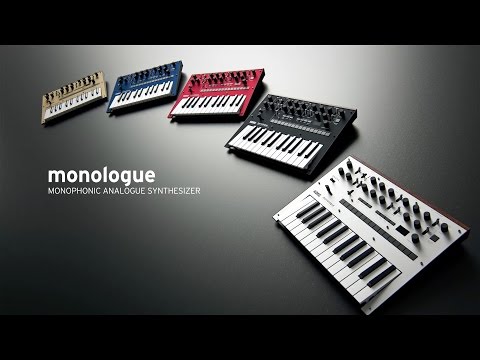 KORG monologue | Next-generation monophonic analog synthesizer – YouTube
Video will open in a new window
[isdntekvideo]
.ytvideo { margin:.5em auto; max-width:480px; font-family:arial; text-align:center; position:relative; min-height:120px; overflow:hidden; background-color:#555; } .ytvideo p { position:absolute; margin:0; color:white; background-color:rgba(0,0,0,.5); } .ytvideo .yt_hd { font-size:16px; width:100%; height:28px; line-height:28px; text-align:left; top:0; left:0; padding-left:10px; overflow:hidden; } .ytvideo .yt_ft { font-size:11px; width:100%; bottom:0; left:0; } .ytvideo img { display:block; max-width:100%; border:0; } .ytvideo a:after { content:"A025BA"; position:absolute; width:60px; height:50px; left:0; top:0; right:0; bottom:0; margin:auto; border:0; border-radius:10px; color:white; background:rgba(0,0,0,.6); font-size:24px; line-height:50px; cursor:pointer; } .ytvideo a:hover:after { background:#CC181E; }
---
Key Features & Specifications for the Korg Monologue Monophonic Analog Synthesizer with Presets -Black (MONOLOGUEBK):
Single Voice – Fully Programmable

Analog Drive Circuit

Redesigned Filter, Modulation, and LFO

100 Fully Editable Presets

16-Step Note and Motion Sequencer

Microtunings with 12 User Slots

Aphex Twin Scales, Sounds, and Sequences

OLED Display with Built-In Oscilloscope

Aluminum Chassis with Pyinkado-Wood Panel

Chassis-Mounted Metal Shaft Pots