Korg Volca Analog Bass Machine Synthesizer

6 x
AA Alkaline Batteries
Limited 1-Year Warranty
---
About the Korg VOLCABASS – Analog Bass Machine
The Volca Analog Bass Machine Synthesizer from Korg
features three self-tuning analog oscillators as well as an analog
filter. The synthesizer can be controlled with its Multi-Touch keys or
the built-in Electribe-style 16-step sequencer with slide function. The
sequencer has eight memory patches for storing your settings and an
Active Step function that can remove or insert steps to help create new
bass lines.
Designed with a straightforward structure, the Volca Bass has a
single voltage-controlled filter (VCF), voltage-controlled amplifier
(VCA), low frequency oscillator (LFO), and envelope generator (EG). The
unit can receive MIDI from an external controller or DAW via its 5-pin
DIN connector. Multiple units from the Volca line can be clock synced
with the 1/8″ Sync In and Out connectors. It can be powered by six AA
batteries or with the optional KA-350 AC adapter.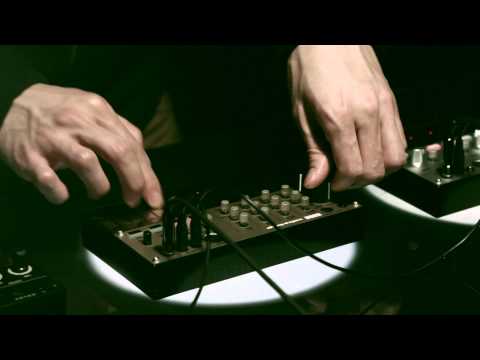 KORG volca series – 3 analogue synthesizers for the ultimate leads, basses, and rhythms – YouTube
Video will open in a new window
[isdntekvideo]
.ytvideo { margin:.5em auto; max-width:480px; font-family:arial; text-align:center; position:relative; min-height:120px; overflow:hidden; background-color:#555; } .ytvideo p { position:absolute; margin:0; color:white; background-color:rgba(0,0,0,.5); } .ytvideo .yt_hd { font-size:16px; width:100%; height:28px; line-height:28px; text-align:left; top:0; left:0; padding-left:10px; overflow:hidden; } .ytvideo .yt_ft { font-size:11px; width:100%; bottom:0; left:0; } .ytvideo img { display:block; max-width:100%; border:0; } .ytvideo a:after { content:"A025BA"; position:absolute; width:60px; height:50px; left:0; top:0; right:0; bottom:0; margin:auto; border:0; border-radius:10px; color:white; background:rgba(0,0,0,.6); font-size:24px; line-height:50px; cursor:pointer; } .ytvideo a:hover:after { background:#CC181E; }
.ytvideo { margin:.5em auto; max-width:480px; font-family:arial; text-align:center; position:relative; min-height:120px; overflow:hidden; background-color:#555; } .ytvideo p { position:absolute; margin:0; color:white; background-color:rgba(0,0,0,.5); } .ytvideo .yt_hd { font-size:16px; width:100%; height:28px; line-height:28px; text-align:left; top:0; left:0; padding-left:10px; overflow:hidden; } .ytvideo .yt_ft { font-size:11px; width:100%; bottom:0; left:0; } .ytvideo img { display:block; max-width:100%; border:0; } .ytvideo a:after { content:"A025BA"; position:absolute; width:60px; height:50px; left:0; top:0; right:0; bottom:0; margin:auto; border:0; border-radius:10px; color:white; background:rgba(0,0,0,.6); font-size:24px; line-height:50px; cursor:pointer; } .ytvideo a:hover:after { background:#CC181E; }
---
Key Features & Specifications for the Korg VOLCABASS – Analog Bass Machine:
Analog Bass Synthesis
Self-Tuning Oscillators
3 Analog Oscillators
Built-In 16-Step Sequencer
8 Memory Patches
Sync Multiple Volca Instruments
Built-In Speaker
Battery or AC Power